[Posted @ 11:07 PM]
So, I subscribed Mandarake to inform me any new items regarding any Doropanda Tours [どろぱんだTOURS] related stuff and guess what? どろぱんだTOURS(南崎いく)「優しいケモノのあやし方」 コミケ84 SHOWED UP … I squealed and quickly got to Mandarake to order a copy. I also googled Yahoo Japan Auctions and I was pleasantly surprised to see a live auction on the exact same copy [or buyee link] that is closing in about 4 hours.
There were two copies and I wanted to get both then get a friend of mine to scan it for me but alas, someone bought out a copy :< In the end, I had to buy the last copy for 1200YEN. Ugh, I wanted to wait until the auction ends in 3-4 hours [since I was the only bidder] and get a copy for only 500YEN, I took a gamble and lost one copy ;-;
Anyways, I googled more and I found out that the seller had already sold 5 copies [including mine] of Comiket 84 Yasashii Kemono no Ayashikata [優しいケモノのあやし方]. So if you're looking to buy a copy, maybe the seller will post more tomorrow? since C84 is still on-going … Or you can go over to Mandarake to get a copy if they're not sold out yet.
You have to sign in Yahoo Auctions Japan though to look at Adult or 18+ items and I suggest you google with keywords such as 'どろぱんだTOURS Yahoo Auction Japan' or 'コミケ84 どろぱんだTOURS'.
Good luck!
Oh yeah, I will update this post once I get my copies xD
Updated on 16/08/2013:
Got my shipping notice from Mandarake! Super excited, I think we can expect the parcel within this week or ;-; next Monday. No news from buyee yet but soon, probably by this week as well and shipment next week =D Also I've noticed a seller putting up Doropanda Tours' Vocaloid LukaxMiku 'Love Match' Volume 1 [Not the 0.5 preview copy I own], Evangelion Asuka '幼年期の終わりに' and Evangelion MarixAsuka 'BEAST X BURST'. They all going for 2500 YEN each and 4000 YEN to buy out … kind of expensive :\ so I'm waiting it out since I don't really NEED to get them heh.
Got my copy from Mandarake =D and also the shipping notice from buyee, expect arrival next week. Contents in 'どろぱんだTOURS(南崎いく)「優しいケモノのあやし方」 Vol.13.5′ is roughly the same as Vol.13 but with 3 side stories as shown above.
I'm planning to send this copy to my friend for her to scan and translate but I think we need another Japanese translator to PR her translations :| [I suspect she uses Google Translator LOL] anyways if you're interested, please post a comment and ah also we need an editor. Plans are still tentative until I see how the scans turn out. Until then, make do with the phone scans above xD
[Posted @ 6:17 PM]
HAY there, so I tried purchasing from Honto.jp instead of Amazon Japan on this purchase and it's pretty good. I saved almost 1000 YEN on shipping charges =O. Since citrus [シトラス] was out of stock in Amazon JP ;A; so I'm like what the heck, I'll just try honto.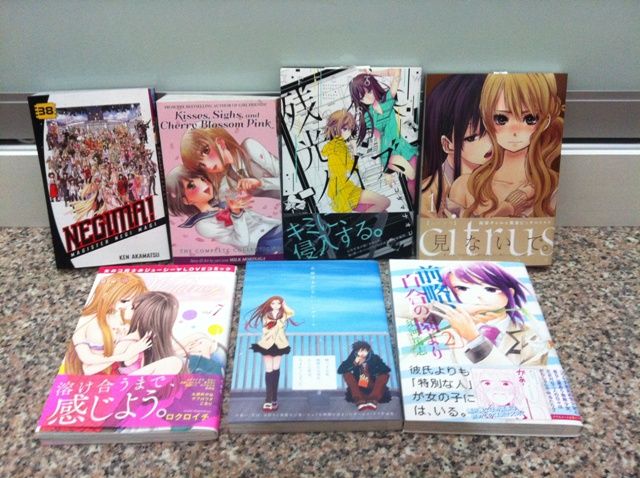 NEGIMA! #38 [END], Kisses, Sighs and Cherry Blossom Pink, 残光ノイズ, citrus,
Yuri Hime Wildrose #7, 名前はまだない, 前略、百合の園より #2
There are the two purchases from Amazon USA but I'm lazy to make it into another blog post so, I'll just slot them in xD Also I'm satisfied with the order so I'll probably stick to honto now =P I chose the EMS shipping because ASIA IS AWESOME. We get good prices and fast delivery time, so gtfoSAL (sorry NA people).
DA-DA-DUM, I have a copy of citrus to give away :3 I'm feeling pretty generous these days lol. I'm making it a random commenter give away again so just post on how badly you want this copy of citrus xD I'll give this a month's deadline.
Good luck!
PS: The list of mangaka from Yuri Hime Wildrose #7 and a SAFE page from Nanzaki Iku's story ;P Yeah it's the continuation from YH Wildrose #3 – Love Prep Room
Saburouta, Megane Otomo, Rokuroichi, Kodama Naoko, Chisako, Momono Moto, Amano Shuninta, Kurata Uso, Koruri and finally Nanzaki Iku [Do I even need to link her?]. Sources: Dynasty-Scans and pixiv.
[Posted @ 5:34 PM]
Well, there're good news and bad news. Good news is that I have scanned Doropanda TOURS' 優しいケモノのあやし方 [Yasashii Kemono no Ayashikata]. Bad news is that it's a phone scan. Ugh, better than nothing I guess?
I've also acquired Vol 10 S&N and the Vol 10.5 (Green version)
In case you're wondering what's the difference between the red and green cover copies of 感情生物EX [Kanjou Seibutsu EX], the red one is the rough sketch copy while the green one has outlines drawn over the same images. So I assume the red version is rarer =P since it's the 'first sketch copy'.
I'm sorry if the images taken with my phone is blurrish, it looked fine on my phone D< You can find the download link at my Doropanda Tours Page.
Oh if you're interested on how I buy them from Yahoo Japan Auction. I used a forwarding service called Buyee. Their fees are very transparent as they break down charges for your viewing pleasure before bidding and during shipping. But they can get really expensive
Also, I can bid on items personally and they have auto emails to me if I get outbidded. You can hold your items in their warehouse for 30 days and they also provide consolidation services.
In my case, I bought two items from different auctions;
Item 1 (1000) + 2 (1800) = 2800 YEN | Weight = 340g
Service and Payment fee 700 YEN for each auction
2800 + 700 + 700 = 4200 YEN
Domestic shipping fee 80 YEN + 80 YEN = 160 YEN
International shipping fee 1100 YEN (to Singapore)
Consolidation fee 500 YEN
Shipping cost = 1760 YEN using EMS
The best thing about Buyee is that they're fast and reliable and depending on your budget, you can give them a try