Archive for category anime
[Posted @ 7:37 PM]
=O *GASP* The last episode is out! XD. *who cares about exceeding my bandwidth quota, this is worth it!!!*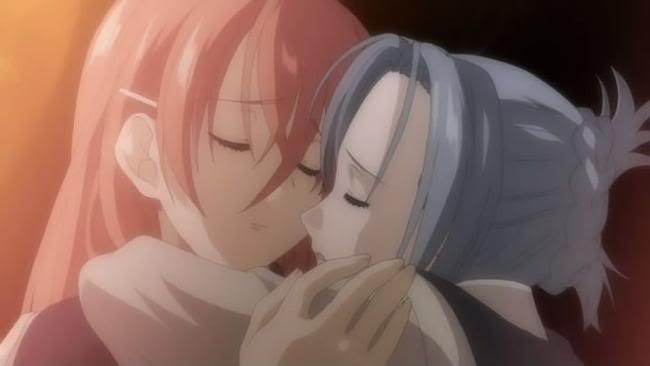 Japanese Title: 少女セクト ~Innocent Lovers~ OVA 3 [END]
English Title: Shoujo Sect ~Innocent Lovers~ OVA 3 [END]
And as usual, screenies are NSFW/M [Not safe for work] or [Not safe for minors].
I'll not post the direct link here, just go to Tokyo Toshokan and search for shoujo sect [In Japanese] =).
Be warn, what you are about to view contains mature themes and it may not be suitable for minors [Those below 18] so if you're weak in the heart, PLEASE DO NOT PROCEED. I will NOT be liable for any damages – be them physical, emotional, or blood loss from viewing. =)
If you agree, please click on the 'SHOW' button to see the link.
Well, that was unexpected, the last OVA had only Chapter 10 of the manga and … some hints of Chapter 12 and 13 … blah, anime Momoko lacks that 'punch'! LOL Should had used a fire extinguisher like manga Momoko lol. Ah but the Kirin lecturing Momoko scene's pretty good XD.
Momoko: Well, you should understand my feelings now isn't it!?
Shinobu: Eh?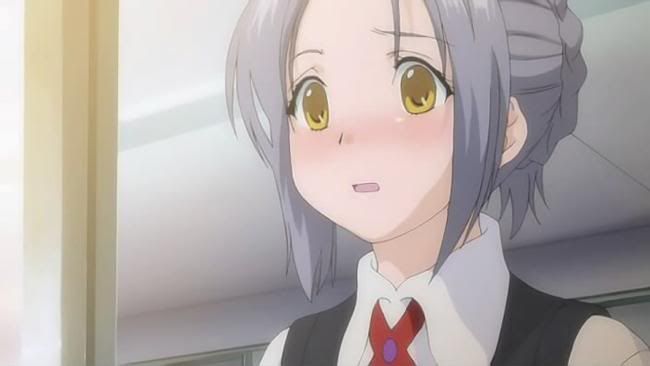 *Blush*
Momoko: BAKA!
LOL, that scene's so cute XD.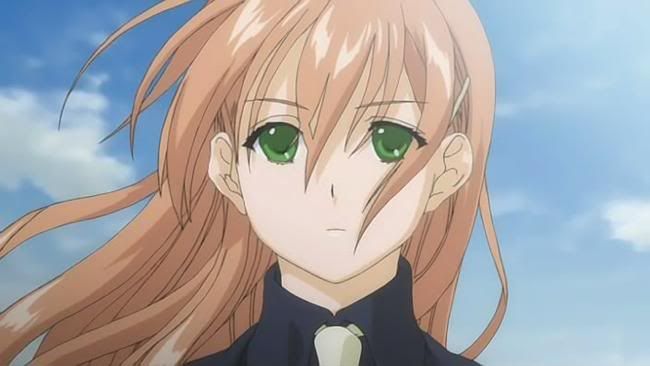 A cool Shinbo XD.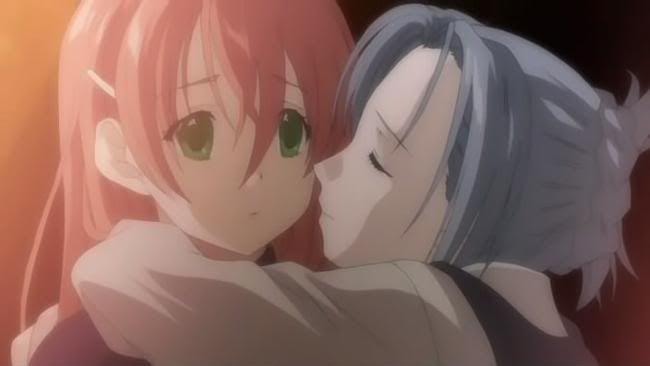 Awww, I like this original scene, Momoko finally remembered meeting Shinobu when she was young and that they played Hide and Seek in this particular playground. True enough, Shinobu's hiding in the same place as she did when she was young and the flashback of Momoko hugging Shinobu under that … uh I have no idea what is it but lol it's sweet.
Momoko: Sorry for being late.
Shinobu: You were too late, baka.
And next, love scene in Love Hotel lol … in the bathtub … hm kinda nice I guess. Lacks the playfullness as seen in the manga … more tender here and 'I LOVE YOU' kinda with the constant hands grasping together.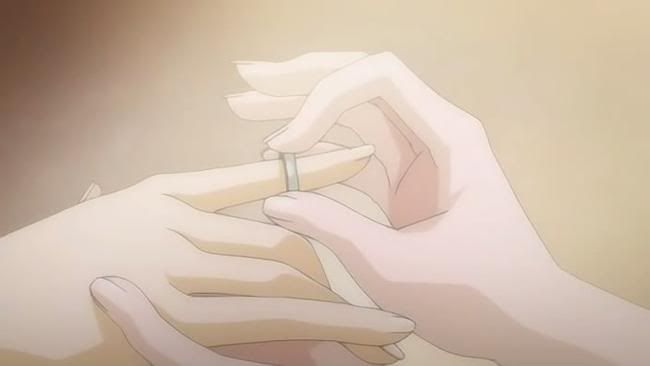 I'm glad they inserted a flashback of Momoko's heartfelt words and putting the ring on Shinobu's ring finger scene =). Ahhh, lol @ the kiss with Maya … well kinda bittersweet … of Maya's unrequited feelings I guess … o_o.
And it's the end, I kinda like the soundtrack … 'lalala' lol, it's soothing I guess. Well hope you enjoyed it … wasn't the best but ain't the worst … the girl gets the girl … lol.
Random rants;
I'm going home soon!!! WHEE!
[Signing off @ 8:31 PM]
[Posted @ 9:31 PM]
Hyakko Episode 6 – Chapter 10 and Evangelion parody for the last what 5 mins? It's quite amusing to watch actually lol, to put Torako's … *spoilers* lol nah, you'll know it in the next episode [maybe] well the guy who's the fox in the chart as the baddie. He kinda reminds me of Gin from Bleach with those slanted fox-like eyes lol.
Literally, Nene said, 'It's my hobby/interest.' but the 4chan in me made me type out that line.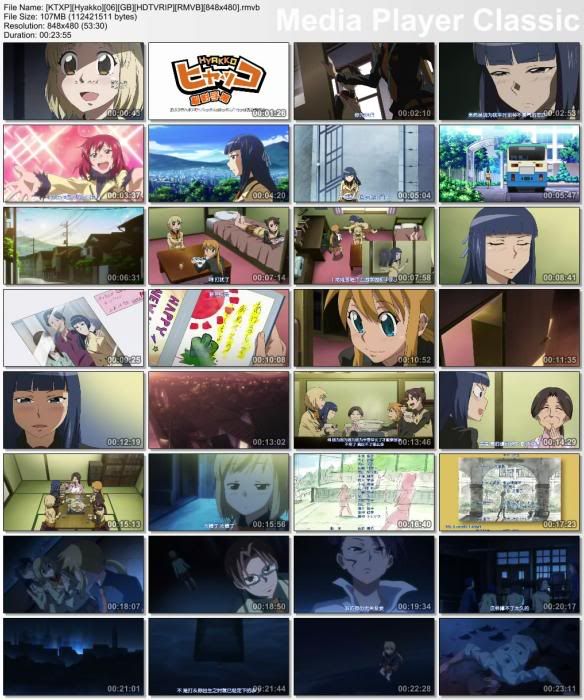 Well, this chapter is all about Tatsuki, her raging over Torako (once again lol) and her housekeeper Toshiko-san. Hm a little about her familt background and of course her childhood albums.

LoL @ the TrickstAr *reminded of Mizuki Nana's Trickster* XD. It's really funny to see Suzume going star-eyed over Tatsuki's ehem ehem, 'Adult Underwear' lol XD. Well, I'm not really fond of Tatsuki … but it's a heartwarming episode I guess … =].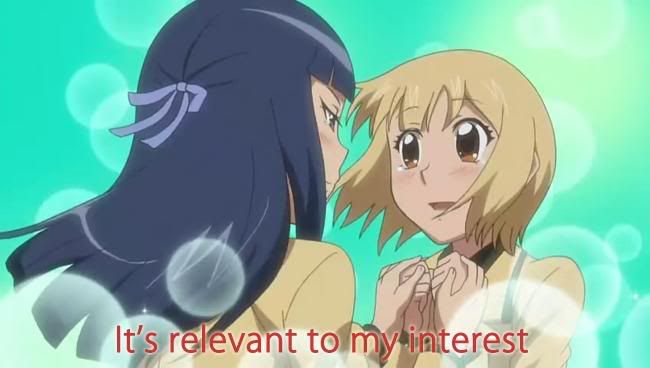 What's Hyakko without some yuri undertones?
[Signing off @ 9:51 PM]
[Posted @ 8:02 PM]
Ah, sorry, I got busy with studying last week … >_> *looks away* But-but, I'm really free now lol, man, suddenly, I'm filled with some sense of emptiness after all the exams and I can't help but feel …
HA!!!!!!!! YEAH RIGHT LOL.
*WOOTS* I'm so excited, I'm really going home soon!!! I can't wait to go home, see my family, my parrots, my mangas and … and buy more mangas!!!! XD. I miss the feeling of going to CC and Kinokuniya to snook around for mangas in corners … sigh. Nothing beats brick and mortar shopping … well online shopping maybe =P.
Alrighty, enough of my rants;
Hyakko Episode 5 – Combi of Chapter 7 and Chapter 5.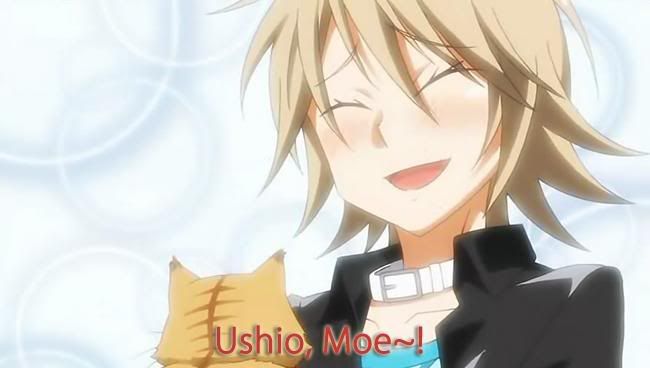 'Oh, My Angel.'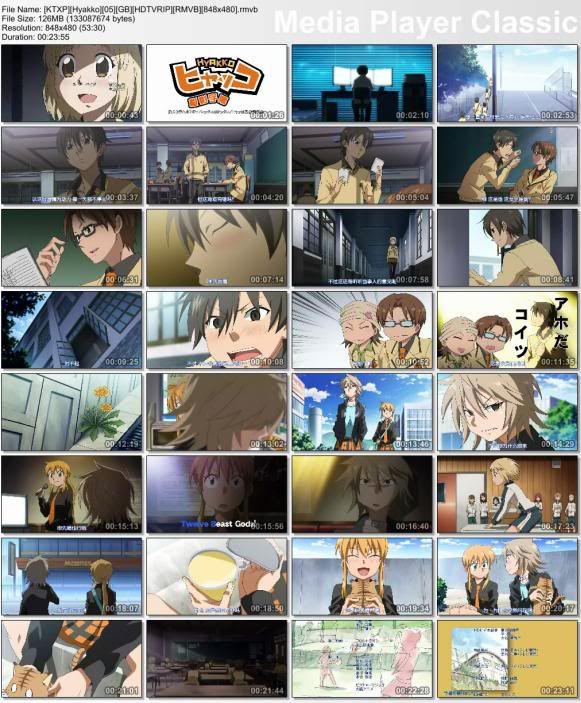 I'll be straight, I practically zoned out at the first what … 3 minutes? LoL, wasn't really interested in what Yanagi's saying … On the other hand, Shishimaru's soo cute and funny lol, he reminds me of Hosaka from Minami-ke LOL. On top on that, he used Ayumi to confess to Torako lol, what a klutz. LOL @ him nose bleeding at the photo of the alluring Torako XD.

Oh well, I really preferred Chapter 5 XD, I just love Torako x Ushio moments lol. Ohh Ushio's seiyuu is Kaido Yuuko (Also Seiyuu for Ootori Amane in Strawberry Panic!), no wonder the voice sounded familiar … lol Kinda weird to imagine Amane going yankee-like with a sneer, 'Whacha looking at HUH?!' XD.
As mentioned, lol I have no idea how many times I've repeated the karaoke scene … ahh, it's just so funny haha XD. Which reminds me, Koh-san mentioned in the previous blog post comment about the song 'Twelve Beast Gods' being an elaborate Japanese/English pun on the twelve animals in the Chinese zodiac.
Very very interesting read and more info here; http://tinyurl.com/6qppzf and in shoujoai forum. Thanks to Koh-san once again XD.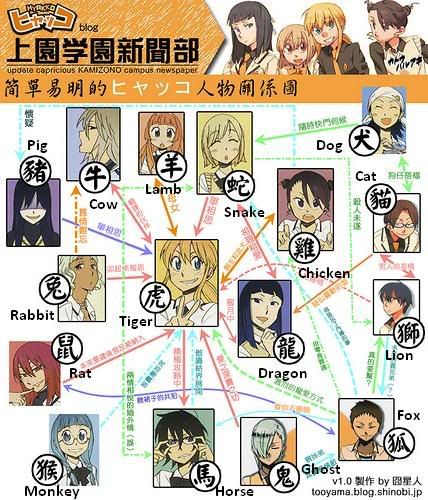 Maybe this chart will be clearer? I got it from the Hyakko Volume 3 Chinese scans, yeah and the size is originally that small, I don't have a bigger picture of it.
I thought to myself that seiyuu of Torako has a nice singing voice, despite her trying to go out of tune by screaming LOL especially at the '朱に染まる ほほ~~' *SMACK* lol. Ah, Torako's seiyuu, Orikasa Fumiko sung 'Rinne no Hate Ni…', the ED of Shingetsutan Tsukihime anime … ohh nice.
XD, I love Ushio's moed expression and Torako's 'I know your secret now' expression haha XD. Ah, I just watched Ep6 too … hm, I'll talk about it next time =], off to work on my secret project heh.
[Signing off @ 9:17 PM]